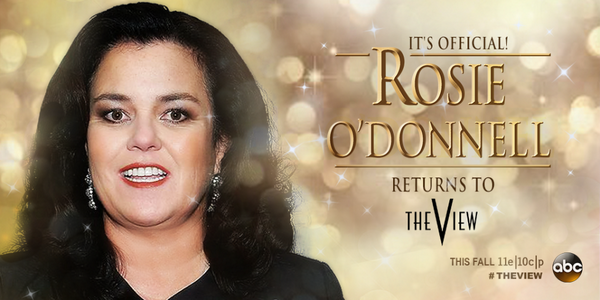 After weeks of speculation, it has been confirmed that Rosie O'Donnell is returning to ABC's The View for its 18th season.
A tweet was sent out saying, "It's official! ABC confirms Rosie O'Donnell returns as co-host of #TheView w/ moderator Whoopi Goldberg for Season 18." There has been mixed reaction from former co-hosts about O'Donnell's return.
Original co-host Joy Behar said to CNN, ""They thrive on ratings and she'll probably bring ratings.  She's very edgy — there' s a certain amount of danger to Rosie, and they're looking to soup up the show." However, Elisabeth Hasselback, who famously feuded with O'Donnell during the latter's one year stint in season 10, said to Fox News, "Here in comes to The View the very woman who's spit in the face of our military, spit in the face of her own network, and, really spit in the face of a person who stood by her and had civilized debates for the time that she was there –  coming back with a bunch of control, ready to regain The View with a seat at that table."
This comes a few weeks after Sherri Shepherd was fired after 7 years on the show and Jenny McCarthy quit after one season. There have been talks about Behar rejoining the show part-time next year, while rumors of people like Sarah Palin or Candace Cameron-Bure joining the mix next season.
What are your thoughts on Rosie's return? Sound off below!